The display board pictured below can be inexpensively purchased at an office and school supply store such as Staples Business Depot.
The fold out panels allow it to rest on a table top with no additional support required or it can be used as a wall mounted display.
The entire display surface can be utilized in the fully open position with the main central panel flanked by two side panels. If less material is desired or available the display can be turned around with the side panels folded partly back, still supporting the display but out of the way, so that only the central panel is used.
Central Panel Display
Full Display With Side Panels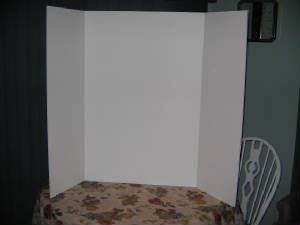 Type up the text of your parents' or grandparents' stories. Proofread it to avoid embarassment. Always get permission from living relatives if you wish to include them in the story. The focus of On Eagles' Wings is the World War Two experiences but other interesting facts should be included.
Photos and documents can be easily copied and enlarged at many conveniently located photo shops or they can be scanned and printed off of a computer onto regular paper. There is no need to use originals. They should be kept in a safe place.
Restickable adhesives (such as Scotch Restickable Glue Stick) can be used to attach the copies of photos and documents and the pages of text to the panels in a eye pleasing pattern. All photos and documents should have labels (above, below or beside) clearly explaining who or what is being shown.
See an example of a finished display on the "London, Ontario" page.